If Outlook for Windows fails to authenticate with the Office365 POP3 email server "outlook.office365.com" (error 0x800CCC92), continue reading below to fix the problem.
(June 16, 2022). The last (2) days Outlook started to display the following error message when clicking at sending/receive button: "Log onto incoming mail server (POP3): Your email server rejected your login.Verify your user name and password for this account in Account Settings. The server responded: -ERR: Logon failure: unknown user name or bad password. Receiving reported error (0x800CCC92)". Outlook is configured with "outlook.office365.com as POP and no changes have been made to the account settings or at the username or password.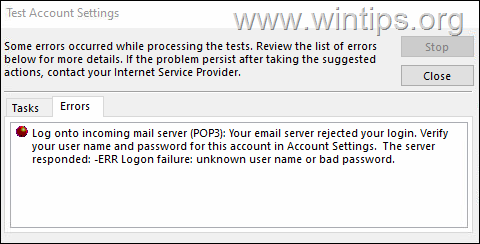 The 1st weird thing about the Outlook receiving error 0x800CCC92, is that when the problem started occurring, Outlook did not always fail to connect to the Office365 POP3 server and receive email without problem.
The 2nd odd thing is that the problem occurs only in the Microsoft Outlook 2016 and 2019 apps for Windows and not on iPhones or Android devices.
The 3rd odd thing is that the 0x800CCC92 receiving error only occurs if the Office356 account is configured as POP3 in Outlook and not as IMAP or Exchange. Also, OWA works without any problems.
How to fix Outlook Receiving error 0x800CCC92 with POP3/IMAP and Office365 Exchange Online (Outlook 2019/2016/2013/2010/2007).
After looking for many hours to find a solution for the problem I came across the following article in which I found that Microsoft has started to disable the basic authentication in Exchange Online and will remove it completely on October 1, 2022.
After reading this article, I realized that Microsoft removes the ability to use Basic authentication in Exchange Online for Exchange ActiveSync (EAS), POP, IMAP, Remote PowerShell, Exchange Web Services (EWS), Offline Address Book (OAB), Outlook for Windows, and Mac and requires customers to move from apps that use basic authentication to apps that use Modern authentication (OAuth 2.0 token-based authorization).
And here it comes the 4rd odd thing about this problem: since Outlook 2019 and 2016 already has Modern Authentication support why doesn't it connect to Office365 POP3?
After all this, I found the cause of the problem in Office365 Admin Center: although Microsoft has automatically disabled Basic Authentication, it has not automatically enabled Modern Authentication!
So if you are experiencing similar Outlook authentication issues with Office385 POP3, use one of the following methods to turn on the Modern Authentication in Office365 and to enable or disable the access to Basic Authentication protocols (POP3, IMAP, etc.)
Method 1. Enable Modern Authentication in Office365 Admin Center Dashboard.
1. Login to Microsoft 365 admin center and go Settings > Org settings.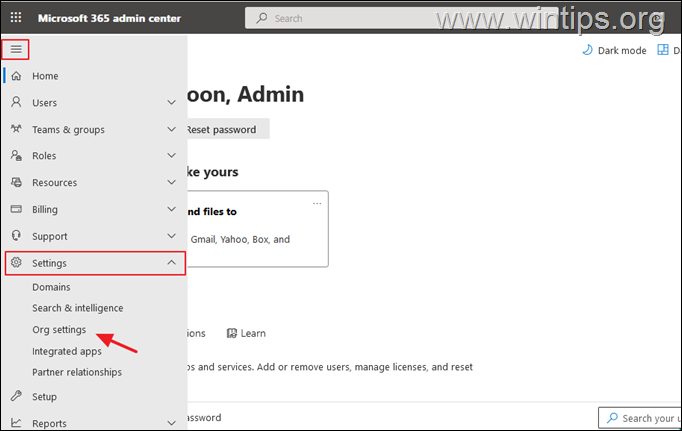 2. At Services tab, open the Modern Authentication.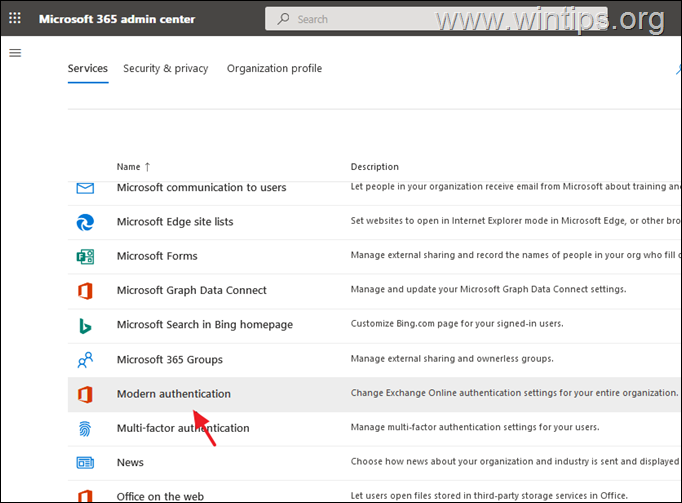 3. At Modern authentication settings, apply the following settings and click Save:
Check Turn on modern authentication for Outlook 2013 for Windows and later versions (recommended).
If you want to continue using basic authentication (e.g. if you have Outlook 2010 or earlier), check the corresponding boxes under the "Allow access to basic authentication section. *
* Notes:
1. Since Microsoft will disable completely the Basic Authentication method on October 1, 2022 is recommended to upgrade your clients and to keep the Basic Authentication disabled for all protocols.
2. If you're using Outlook 2010, 2007 or 2003 keep enabled the Basic Authentication for now and upgrade to Outlook 2016, 2019, etc. before October 1, 2022.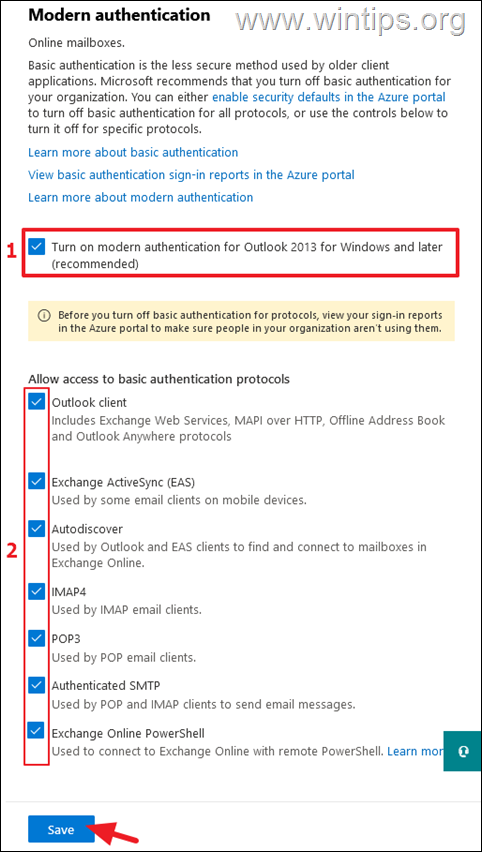 4. Now wait about 30 minutes for the change to take effect and then restart Outlook and see if it connects to Office365 POP3 without problems. (I tried it after about one hour).
5. If you have kept basic authentication turned on, Outlook will connect now to Office365 without any problem. If you have disabled the basic authentication you'll prompted to login again to Office365. At this case, type your account credentials in modern authentication dialog to sign-in to Office365. *
* Note: If you still cannot connect to Office365 from Outlook see the final notes at the end of this article.